About Us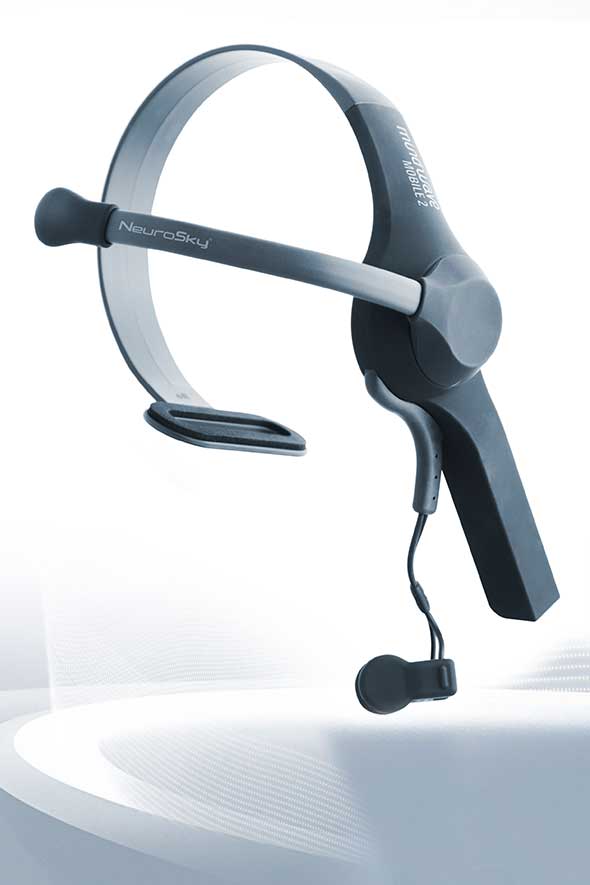 F T AND S is an Authourized distributor of Neurosky products in India. We keep good number of stock of Mindwave Mobile, also known as Brainwave Starter Kit in Mumbai, India.
Neurosky technology
Your brain is constantly producing electrical signals while it operates, as the cellular components of the brain (neurons) communicate with each other. At a macro scale, they produce a range of frequencies that scientists have found relate to particular mental states. For example, a sleeping person's brain produces an abundance of delta waves, whereas an alert and awake person concentrating hard on something will produce far more beta waves.
The Mindwave headset picks up your brain's electrical activity and divides the signal by frequency into various types of waves, allowing it to infer your mental state. For the most of the non-scientific apps however, it primarily reads how relaxed (as measured by alpha/theta waves) or concentrated (as measured by beta/gamma waves) you are.
Unfortunately your body makes a lot of other electrical noise, in addition to the activity coming from your brain. For this reason there is a 'reference' contact, in the form of a clip that attaches to your earlobe, which allows the headset to filter out non-brain related electrical activity.
Hardware
The Mindwave headset is a slim, matte black/light blue plastic device which fits comfortably, if not unobtrusively, over your left ear. The primary sensor sits on your forehead pretty comfortably, although it will take a minute or two to adjust it the first time you put it on. The ear clip is likewise pretty comfortable, and the whole apparatus has the advantage of easily allowing you to wear over-ear headphones at the same time if you so choose.
It connects via bluetooth to the device of your choice, and works with most modern operating systems (Windows xp or newer, Mac OS X 10.6.5 or newer) and mobile devices running android or iOS. It's battery life is rated at 8 hours with a single AAA battery.
Installation
Installation and setup are a breeze, mostly because there is very little to set up. Pairing the Mindwave up to your device via bluetooth requires almost no effort, and after that all that remains is downloading the bundled apps, or simply installing them with the included CD if the device isn't a Mobile or Tablet.
Applications
The MindWave mobile comes bundled with a few applications and there are many other available, both free and paid, on the NeuroSky Online Store, and also on Apple and Android app stores.
Since we are an authourized distributor of Neurosky, the product comes with a 90 days warrranty (Hardware only). If for any reason the headset is unable to get connected with the laptop/Android phone/iPhone, please give us a Call/Whatsapp on 9892254835. We shall do the trouble shooting and if still the issue is not resolved, we shall notify you how to process a RMA request with Neurosky.
RMA Process
Customer needs to send an email to support@neurosky.com giving details of Invoice date & Serial number of the headset (See bottom of the box). Also give details of the issue being faced. Support team of Neurosky would try to trouble shoot from their end and if not successful, then would give a RMA number. The customer then needs to send the faulty unit along with the RMA number to us and upon receipt of the faulty unit, we shall send a new packed unit to the customer.
Developer Tools/SDK:
FOR PC/MAC
FOR Android
FOR iOS